Costs and Funding
Expeditions Programme Costs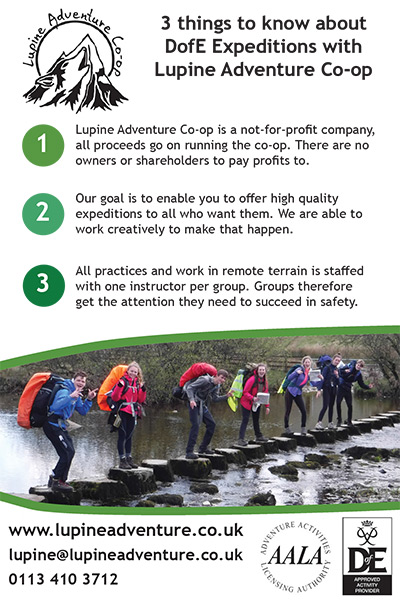 The costs to undertake remote supervision work in 'wild country' are relatively high. However, as a grass roots, not-for-profit organisation without any shareholders or investors, we are in a position to to keep running costs low.
Because of our 'not-for-profit' status the DofE work that we do for schools is exempt from VAT so there is no VAT to pay on any of our activities.
The cost of whole expedition programmes depends on how we conduct the training, where the expeditions are going to take place and how many participants there are. Lupine Adventure like to do a very thorough job of training groups. We believe that good training results in safer and more comfortable, happier groups.
Take a look at some sample costs below.
In house training
We can visit your group for an intensive training course, for one or two days of a weekend, using your premises. We are happy to travel anywhere in the country to provide weekend training programs local to you.
The whole programme package includes:
Bronze
Silver
Training
1 Day
1 Day
Practice
2 Days
3 Days
Qualifying
2 Days
3 Days
Prices from*
£1470 per group
£210 per participant
£2072 per group
£296 per participant
*The prices listed assume a programme of 28 students and were accurate in September 2021. Please contact us for an accurate quote for your participants.
Training: Training on a weekend at your premesis.
Expeditions: Campsite fees are included but participants will be expected to bring their own food.
Gold Residential training followed by practice and qualifying expeditions.
For Gold we usually offer the entire expedition programme in two chunks. We carry out the training on a residential in the Yorkshire Dales or Peak District and immediately follow it on with the practice expedition. We then carry out the qualifying expedition at a later date after participants have had time to recover and reflect on their practice expedition. The costs for these expeditions can vary considerably depending on the size of group and accommodation requested for the residential part.
The costs below include:
Training and Practice Expedition: Three evenings and two full days training based in a bunk barn in the Yorkshire dales, immediately followed by a 3 day and two night practice expedition.
Assessed Expedition: Five day gold assessed expedition, Meeting up at about lunch time on day 1.
All camping fees are included and food for the residential part of the expedition is also included. All food that we provide on DofE residentials is vegetarian and Halal, other dietary requirements can also be catered for. The students will be required to bring money to purchase their expedition food for the practice after they have received their 'menu planning' training.
| | |
| --- | --- |
| Level | Gold |
| Prices from* | £480 per participant |
*The prices listed was calculated in 2021 and assumes a programme of 28 students staying in bunk accommodation, Camping options on training can work out cheaper. Please contact us for an accurate quote for your participants.
Supervision of groups that you have trained.
After training a group yourselves we can provide qualified Mountain Leaders experienced in remote supervision to run and assess the expeditions. We can't really give a sample price as there are so many variables so please do get in touch for a quote.
Funding opportunities.
There are a number of pots of money out there that can be accessed to enable young people to take part in the Duke of Edinburgh's Award. If your budget will not stretch to the fees required we can supply you with information as to where you may get the funding.
To start with you can try looking here
We (Lupine Adventure Co-op) run a bursary scheme for people in low income households and care leavers. It is for individuals to attend a whole gold expedition programme for free.
Awards for all, Part of the National Lottery.
In 2017 The DofE announced a £3 million fund to support more young people accessing and doing their #DofE as part of the #iwill fund. Please contact your local DofE office to discuss the specifics of the fund, how it can be used, and how to apply. You can find your nearest here: www.dofe.org/offices/
DofE regional notice boards often have local funding opportunities
If you think that you may have students who would benefit from taking part in The DofE but neither your organisation or the students can afford it then get in touch soon so we can investigate other more specific funding pools. As an organisation we tick quite a few boxes that funders like. It may help to point out that the organisation that you are hiring to carry out the activity is a not-for-profit social enterprise. We will happily help you filling out such applications.