In April 2014 Mountain Training are launching their new Hill Skills and Mountain Skills courses. Lupine Adventure Co-operative put in an application to be one of the first wave of providers for the new courses and were accepted. Before we can run these courses all course tutors have to attend a two day training course.
I attended mine in the Peak District last week, as with any training that one is obliged to attend I had all the usual concerns. Will it be a waste of time and money? What sort of snacks will be provided? will the other Mountain Leaders like me?
My fears were without foundation. The course was great, the lunch awesome and the other attendees in my group were a lovely bunch. After various introductions on the first day we split into groups and, using the syllabus, we worked out a sample programme and went into detail about the different ways we could deliver the various aspects.
On day 2 we went out for a walk in our groups and each took it in turns to deliver a topic. One person taught, one person gave feedback and then we all gave feedback on the feedback (It actually worked quite well even if it sounds a bit silly). My group were great, no massive egos meant that we all had a chance to show what we knew and learn from each other. I picked up a few new tricks for teaching about contour lines, pacing and timing.
I elected to do my talk on movement skills and in particular 'how to walk up-hill' not a topic that I would choose to cover on every course but something I have a growing slightly nerdy interest in (I've even written a sheet on it). We were accompanied by an Editor of Grough magazine so I got this rather nice picture of me instructing a group of Mountain Leaders how to walk up-hill.
Photo courtesy of Grough Magazine: www.grough.co.uk
Lupine Adventure will be delivering Hill Skills and Mountain Skills courses from May 2014. Visit our dedicated Hill and Mountain Skills website for more details. http://www.hillandmountainskills.co.uk/
Every winter for the past few years I have spent a week or two wardening the Alex Macintyre hut for the BMC. This year I've been inundated with friends come an join me for different bits of it. On Sunday Archie came up and yesterday we embarked on the Ring of Steall. The Ring of Steall is a 12km route taking in 4 Munros (peaks over 3000ft) starting and ending in Glen Nevis. Early on in the day you have to cross the 'Devils Ridge'.
I'd done bits of this route before in winter 10 years ago, including the devils ridge and thought nothing of it. Yesterday was a good reminder that in winter, conditions are everything. There was a lot of snow up high and while last time we skipped along the ridge slightly disappointed this time we were gripped on an horrendously steep edge on brittle ice with a soft snow top wishing we'd brought two axes each. A slip from here would have been un-stoppable. This 20m section took an age and left us both with aching left arms, due to (over) gripping the axe. We were now 5 hours into the walk and had only gone 5 km, this was when the cloud came in. The rest of the day was a bit quicker only slowed down during periods of complete white out when we had to inch along the ridge trying to work out which side of the fine peak of wind sculpted snow would be safest to walk on.
We got back to the car after 9 and a half hours of, at times, pretty extreme ridge walking, for a grade I.
If you would like to learn more about winter mountaineering or to be taken on a walk like this (or maybe something a bit less challenging), visit our winter skills and expeditions page.
I've been reading Deep Survival: Who Lives, Who Dies, and Why by Laurence Gonzales over Christmas. It's basically anecdote after anecdote (or case study after case study if you prefer) about things going wrong on mountains, in boats, on surfboards, in jungle - In the wilderness.
I am only half way through but the basic premise is that having more experience can mean in certain circumstances you are more in danger. This due to applying successful past outcomes of actions to similar but different situations rather than assessing each situation on its own merits. The dangers of heuristics. He is also of the opinion that being experienced can just mean that you've been getting away with doing things wrong for a long time!
I'll leave you with this fantastic quote.
"The environment we're used to is designed to sustain us. We live like fish in an aquarium. Food comes mysteriously down, oxygen bubbles up. We are the domestic pets of a human zoo we call civilization. Then we go into nature, where we are least among equals with all other creatures. There we are put to the test. Most of us sleep through the test. We get in and out and never know what might have been demanded. Such experience can make us even more vulnerable for we come away with the illusion of growing hardy, salty, knowledgeable."
We were glad to hear that John qualified as a Mountain Leader earlier this month.
He spent several days out on the hill with us earlier in the year, coming on our both our standard and advanced navigation courses in preparation for gaining his ML award.
Congratulations John from all at Lupine for your success. It was well earned.
Hope to see you out on the hill in future...
As winter is approaching I thought I'd write a little piece on goggles for winter hill walking and how, after 15 years, I have, at last, bought a fantastic pair.

Getting a good pair of goggles for winter walking is incredibly important, if you can't see you can't navigate. Unfortunately, I think that most goggles you find in outdoor shops are designed for sking rather than winter mountaineering and most shop assistants don't seem to be able to advise on the difference.

I have four pairs of goggles in total. Two pairs of Bloc, one pair of Oakley's and a pair from TK max which seem to be made by a company called Ars. As Ars proudly stitch their name onto the head band it can look a bit obscene in photos if your head is at the wrong angle.

Very briefly here is my goggle history and a bit of advice for consideration.

1) 15 years ago I bought a pair of Bloc goggles off a friend, they worked well until something broke in them and they started filling with water between the lenses so I decided to buy a new pair.

2) I Went to TK max and got a pair for a tenner. They were terrible, they don't clear at all so you can't really see anything. They may be ok at speed on a ski run but for walking they are no good.

3) Next I bought a pair of Bloc goggles and was happy with them, they clear fairly quickly, look good and I thought all was well. Then one night I was out with Dave practicing some winter night navigation. I took us to the specific contour feature he had asked me to go to and gave him a challenge for the next leg. The weather was deteriorating so we decided to put our goggles on. After putting mine on I couldn't see the contour on the map that I had just navigated to, even though I knew exactly where it was. I gave Dave's goggles a try and it was amazing. I realised that I was basically wearing orange tinted sun glasses and trying to navigate at night.

Not only was the distance I could see massively reduced but contour lines were incredibly hard to make out especially when they were a bit obscured by other features or water / ice on the map case.

4) So I went shopping the next day and decided to test for myself. I ended up in the shop with the largest selection, lying on the floor with a big blanket over my head. I had with me a head torch, a selection of maps (3 different scales) in map cases and a bit of water to splash on the map case. I ended up buying some Oakley Catapult goggles (slightly bigger round the bridge of the nose than the Ambush, I thought it may be better when struggling for breath walking up hill). They are truly incredible, while I thought my bloc goggles were good, these are so much better for clarity in daylight and night time as well as seemingly being impossible to fog up. if you were to want to take a look at the beauty of this lens it is the Oakley 'Persimmon' lens that is found in many of their goggles (Mens UK shop - Womens UK shop). I am assuming that Catapult goggles will not be sold forever but the Persimmon lens should be about for a bit.

Basically, I bought these a while ago so have no idea what the market is like today, I am sure that Bloc do some good goggles for winter walking too but I think I have always had tinted ones which fogged up a bit.

If you are buying goggles I would definitely recommend going goggle shopping with a blanket, torch, maps and water. Yes it is a bit embarrassing but worth it if you don't want to waste your money on an expensive pair of sunglasses that are useless for winter walking and look silly at the beach.

And lastly. You do need to protect your goggles when they are in your rucksack so unless you spend a fortune and they come with a hard case you'll have to get one. You could search for 'Summit Worldwide UNIVERSAL Ski Goggle Case' which you may be able to pick up for about £15 or take your goggles to a big supermarket and buy as suitably sized lunch box. Make sure you don't store your goggles in an air tight lunch box over summer though or they may go mouldy.

If you would like to learn more about winter mountaineering or simply be taken on an amazing winter walking trip then visit our winter skills and expeditions page.
When heading off to the hills for overnight expeditions (and sometimes on day trips if you get your timings wrong) you may find out that you need to, err, take a dump. In summer this isn't really a problem as you can usually fairly easily bury your waste. In winter it is a different matter. To be able to dig out enough snow to get to the ground below and then dig a hole may take some serious excavations.
If you simply bury it in the snow then this is only delaying the time when your frozen log appears on the surface. Then as the snow melts further it will slowly make its way down to ground level. Once the temperature rises enough the various bacteria, microbes and insects will to get to work to break it down. All this takes time and can be very unpleasant in popular spots, specifically around bothies.
In the Cairngorms they have the excellent Cairngorm Snow White Facilitywhereby you can pick up a poo pot from the ranger base and empty it on your return. Elsewhere you are on your own.
Occasionally in winter I go on multiple day expeditions in areas not covered by the Cairngorm poo project so I put together a Winter Poo Kit.
What's in the kit and why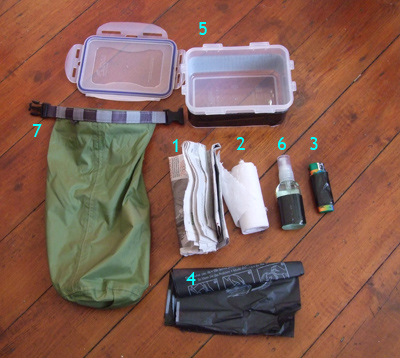 1) Newspaper / magazine pages: Lay out a square of newspaper and do your business on it. It has been suggested that magazine pages are a bit more robust so you may wish to consider a magazine instead.
2) Toilet Paper: You know what to do with that
3) Cigarette Lighter: You may want to burn your used toilet paper and any excess newspaper rather than carry it out.
4) Biodegradable dog poo bags: Roll up your newspaper and put it in a bag and tie it off. Bought from a pet shop. Or Amazon
5) Liquid Safe lunch box: put the Dog poo bag in the box
6) Hand Sanitiser: Wash your hands
7) Waterproof bag: Put the lot in a waterproof bag and either put in your rucksack or attach to the outside.
Leaving the kit outside the snowhole / tent will help the poo to freeze. Once low enough down the hill for there to be no snow cover or frozen ground you can dig a nice deep hole and bury the contents of the box. Job done.
If you would like to learn more about winter mountaineering or simply be taken for an amazing winter walking trip in the highlands then visit our winter skills and expeditions page.
There really was a lot of water everywhere.
We got a call from Warwick school requesting a single Mountain Leader to help supervise one of four groups they had out for an October half term, gold qualifying expedition. The weather over the four days was horrendous. It rained for a large percentage of every day and night, sometimes very heavily. This was also coupled with high winds leading to poor sleep for everyone. However, my group were amazing and stayed really upbeat throughout. They were a great, solid, reliable group always on time and hardly going wrong at all. This meant I could plan my excursions from the car for a minimum amount of time out in the horrendous weather. On the few occasions when they strayed from the route they were matter of fact, open, honest and communicative about what had gone wrong and what they did to fix it.
All 4 groups successfully completed their expeditions with both assessors commenting on how pleasant and cheerful all the groups were, which, considering the conditions (and their age and gender) no one could really understand, not even their teachers.
The last group coming in as the sun comes out.