We were glad to hear that John qualified as a Mountain Leader earlier this month.
He spent several days out on the hill with us earlier in the year, coming on our both our standard and advanced navigation courses in preparation for gaining his ML award.
Congratulations John from all at Lupine for your success. It was well earned.
Hope to see you out on the hill in future...
As winter is approaching I thought I'd write a little piece on goggles for winter hill walking and how, after 15 years, I have, at last, bought a fantastic pair.

Getting a good pair of goggles for winter walking is incredibly important, if you can't see you can't navigate. Unfortunately, I think that most goggles you find in outdoor shops are designed for sking rather than winter mountaineering and most shop assistants don't seem to be able to advise on the difference.

I have four pairs of goggles in total. Two pairs of Bloc, one pair of Oakley's and a pair from TK max which seem to be made by a company called Ars. As Ars proudly stitch their name onto the head band it can look a bit obscene in photos if your head is at the wrong angle.

Very briefly here is my goggle history and a bit of advice for consideration.

1) 15 years ago I bought a pair of Bloc goggles off a friend, they worked well until something broke in them and they started filling with water between the lenses so I decided to buy a new pair.

2) I Went to TK max and got a pair for a tenner. They were terrible, they don't clear at all so you can't really see anything. They may be ok at speed on a ski run but for walking they are no good.

3) Next I bought a pair of Bloc goggles and was happy with them, they clear fairly quickly, look good and I thought all was well. Then one night I was out with Dave practicing some winter night navigation. I took us to the specific contour feature he had asked me to go to and gave him a challenge for the next leg. The weather was deteriorating so we decided to put our goggles on. After putting mine on I couldn't see the contour on the map that I had just navigated to, even though I knew exactly where it was. I gave Dave's goggles a try and it was amazing. I realised that I was basically wearing orange tinted sun glasses and trying to navigate at night.

Not only was the distance I could see massively reduced but contour lines were incredibly hard to make out especially when they were a bit obscured by other features or water / ice on the map case.

4) So I went shopping the next day and decided to test for myself. I ended up in the shop with the largest selection, lying on the floor with a big blanket over my head. I had with me a head torch, a selection of maps (3 different scales) in map cases and a bit of water to splash on the map case. I ended up buying some Oakley Catapult goggles (slightly bigger round the bridge of the nose than the Ambush, I thought it may be better when struggling for breath walking up hill). They are truly incredible, while I thought my bloc goggles were good, these are so much better for clarity in daylight and night time as well as seemingly being impossible to fog up. if you were to want to take a look at the beauty of this lens it is the Oakley 'Persimmon' lens that is found in many of their goggles (Mens UK shop - Womens UK shop). I am assuming that Catapult goggles will not be sold forever but the Persimmon lens should be about for a bit.

Basically, I bought these a while ago so have no idea what the market is like today, I am sure that Bloc do some good goggles for winter walking too but I think I have always had tinted ones which fogged up a bit.

If you are buying goggles I would definitely recommend going goggle shopping with a blanket, torch, maps and water. Yes it is a bit embarrassing but worth it if you don't want to waste your money on an expensive pair of sunglasses that are useless for winter walking and look silly at the beach.

And lastly. You do need to protect your goggles when they are in your rucksack so unless you spend a fortune and they come with a hard case you'll have to get one. You could search for 'Summit Worldwide UNIVERSAL Ski Goggle Case' which you may be able to pick up for about £15 or take your goggles to a big supermarket and buy as suitably sized lunch box. Make sure you don't store your goggles in an air tight lunch box over summer though or they may go mouldy.

If you would like to learn more about winter mountaineering or simply be taken on an amazing winter walking trip then visit our winter skills and expeditions page.
When heading off to the hills for overnight expeditions (and sometimes on day trips if you get your timings wrong) you may find out that you need to, err, take a dump. In summer this isn't really a problem as you can usually fairly easily bury your waste. In winter it is a different matter. To be able to dig out enough snow to get to the ground below and then dig a hole may take some serious excavations.
If you simply bury it in the snow then this is only delaying the time when your frozen log appears on the surface. Then as the snow melts further it will slowly make its way down to ground level. Once the temperature rises enough the various bacteria, microbes and insects will to get to work to break it down. All this takes time and can be very unpleasant in popular spots, specifically around bothies.
In the Cairngorms they have the excellent Cairngorm Snow White Facilitywhereby you can pick up a poo pot from the ranger base and empty it on your return. Elsewhere you are on your own.
Occasionally in winter I go on multiple day expeditions in areas not covered by the Cairngorm poo project so I put together a Winter Poo Kit.
What's in the kit and why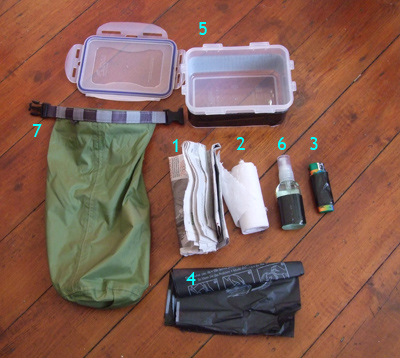 1) Newspaper / magazine pages: Lay out a square of newspaper and do your business on it. It has been suggested that magazine pages are a bit more robust so you may wish to consider a magazine instead.
2) Toilet Paper: You know what to do with that
3) Cigarette Lighter: You may want to burn your used toilet paper and any excess newspaper rather than carry it out.
4) Biodegradable dog poo bags: Roll up your newspaper and put it in a bag and tie it off. Bought from a pet shop. Or Amazon
5) Liquid Safe lunch box: put the Dog poo bag in the box
6) Hand Sanitiser: Wash your hands
7) Waterproof bag: Put the lot in a waterproof bag and either put in your rucksack or attach to the outside.
Leaving the kit outside the snowhole / tent will help the poo to freeze. Once low enough down the hill for there to be no snow cover or frozen ground you can dig a nice deep hole and bury the contents of the box. Job done.
If you would like to learn more about winter mountaineering or simply be taken for an amazing winter walking trip in the highlands then visit our winter skills and expeditions page.
There really was a lot of water everywhere.
We got a call from Warwick school requesting a single Mountain Leader to help supervise one of four groups they had out for an October half term, gold qualifying expedition. The weather over the four days was horrendous. It rained for a large percentage of every day and night, sometimes very heavily. This was also coupled with high winds leading to poor sleep for everyone. However, my group were amazing and stayed really upbeat throughout. They were a great, solid, reliable group always on time and hardly going wrong at all. This meant I could plan my excursions from the car for a minimum amount of time out in the horrendous weather. On the few occasions when they strayed from the route they were matter of fact, open, honest and communicative about what had gone wrong and what they did to fix it.
All 4 groups successfully completed their expeditions with both assessors commenting on how pleasant and cheerful all the groups were, which, considering the conditions (and their age and gender) no one could really understand, not even their teachers.
The last group coming in as the sun comes out.
On Thursday night Ben and I enlisted Tom to help us with a bit of Continuing Professional Development. We decided to drill the various carries and emergency evacuation techniques that are listed in the Mountain Leader Training Handbook (Hillwalking) and get a bit of night Navigation practice in. We drove up to Wrynose Pass in the Lake District and spent a couple of hours going through various carries. Seeing how far we could carry each other on rough ground either on our own or in pairs using 4 or 5 different methods (answer: not far). We found the Rope carry shown to be the best but it did take a bit of fiddling to get the rope set up correctly to make it comfortable for the injured party.
By 11 o'clock we were all pretty tired out and decided to go onto the main event of night navigation practice. We took it in turns to set each other a leg to navigate. One person would decide where we were going, one would navigate and the other would try and follow where we had gone and relocate at the end of the leg.
At about 2am we had a break under a crag and decided that we could probably scramble up it before continuing on our navigation exercise. We thought it was a bit like trying drive anti-clockwise around Leeds centre (the loop road runs clockwise), it was fairly easy but as we performed each move we had no idea what the next move would be and a mistake would have taken us back to where we had started very quickly.
We then navigated together to the top of a hill which was about an hours walk from the car and were tucked up in our bivi bags by 4:30 am. It had started to rain and rained constantly until about 8:30am. By 9:30 we decided that we had enjoyed ourselves enough and that it was time to get up and go home.
It was a great whistle-stop tour of the lakes and thanks to Tom for coming along to give us a hand.
Skye holiday 2013 report
May 2013
Sunday 12th,
On day 1 we decided to visit the Old Man of Storr; one of the most spectacular sites on Skye. This gives a good, fairly short walk, ideal to get us into the swing of things on the first day, especially given the less than perfect weather forecast. For those that wanted it, it also allowed for the option of a more energetic walk up The Storr (719m).
As it turned out the weather was even worse than the forecast with low cloud, rain and wind. As we emerged from the shelter of a hill at the high point of our walk a particularly strong gust of wind blew several of the party off their feet, and it became clear that continuing up The Storr was not an option! So, after a short but surprisingly adventurous walk, we called it a day and headed to the Edinbane Inn to dry off and enjoy their superb folk session, detouring to admire the Mealt Waterfall at Kilt Rocks en-route.
Monday 13th,
The mood was for a longer walk today and we decided upon Marsco (736m). Marsco is one of the Red Cuillin and a peak that we had had our eye on since the previous year's holiday. The wind had dropped since Sunday and was now merely very strong. Marsco gave us the chance of getting in a great summit while staying out of the worst of the wind for most of the approach, and hopefully being well on the way back to the car by the time that heavy rain was forecast.
This proved to be the case, with our walk down Glen Sligachan and approach up Coire Dubh Measarroch being pleasantly sheltered. Things were a little more exciting on the summit ridge where there was no shelter from the wind. Luckily the skies were clear enough to give us some good views and we were able to pick out the lochans in the valley below which mark what was the centre of the Skye ice cap 12,000 years ago, when Marsco's summit itself was beneath the ice.
We made our descent and while we didn't manage to get to the car before the sleet and hail hit us, we didn't have too far left to go. A satisfying day.
Tuesday 14th
No trip to Skye is complete without walking some of its coastline. Today's walk took in the ruins of the villages Boreraig and Suisnish, both forcibly evicted in the 1850s during the 'highland clearances'.
The walk was followed by a visit to the spar cave on the Strathaird peninsula. This coastal cave can only be approached with a scramble at low tide. Its Gaelic name is Slochd Altrimen which translates as 'cave of the nursling'. Various accounts exist to explain this name, all involving a child being hidden there to ensure its survival.
Wednesday 15th
Sgurr na Stri and Glen Sligachan.
We split into two groups to do two different walks. The largest group headed to Sgurr na Stri, a fairly small but superbly situated peak with some of the best views of the Black Cuillin to be had. We approached it down Glen Sligachan and walked back by the same route. We had wanted a long day and this was what we got; in total we covered about 24 kilometres. The Black Cuillin remained shrouded in cloud depriving us of the classic view, but the rays of sunshine and momentary parting of the clouds, when we reached our summit, gave us atmospheric glimpses of the steep rock of the Black Cuillin, with the water of Loch Coruisk in the foreground.
Meanwhile the other group had visited the Quiraing for a shorter walk on the some of the most dramatic terrain on the island.
Thursday 16th:
It was time to head into the Black Cuillin. Our choice was Sgurr na Banachdich (965m), a Munro on the famous Cuillin Ridge. We set off from Glen Brittle Youth Hostel and walked up Coir an Eich. Above the coir we made our way to the summit through snow and cloud before descending by the same route.
Friday 17th
The walk for the last day was Sgurr Alasdair; the highest peak on the Cuillin Ridge, and on Skye as a whole.
After 5 days of weather which had ranged from mixed to downright terrible, we were finally treated to warm sun and clear blue skies. This was one of those truly great days to be in the mountains, made all the better by having 'earned it' after the weather of the last few days.
We walked from Glen Brittle into Coire Lagan and scrambled up to the lochan in the upper coire. From here we continued up the Great Stone Chute, with towering cliffs on either side, blue skies above and patches of snow on the ground.
At the top of the chute we stopped in the sun for lunch, and then made our way along the short, but very exposed, ridge to the summit, before making our way down by the same route. A fine finale for the week.
That evening, after dinner, we went out for our traditional evening of otter watching followed by a drink in the Pier Hotel on the harbour.
Thanks to the participants on the recent Advanced Navigation Course for a great weekend.
The course began with a briefing and a cuppa in the great Bilbos cafe in Ambleside before we headed into Langdale and up to Stickle Tarn, our campsite for the night. The walk in was used to recap many of the skills from the Standard course.
Having established our camp we headed out for a challenging micro nav session nearby. Some of the terrain was complex to say the least and there were some impressive feats of relocation before we completed the session and made our way back to the tents.
The night nav session later that evening was for me the highlight of the course. Our route took us up above Pavey Arc where the group were set a variety of points to find their way to or relocate at. The stars were out and the standard of nav was again impressive. Thanks to Daryl for his top tip on gaining maximum info from the land around you when relocating: Try switching off your headtorch for a while in order to get a better view of the skyline and therefore the shape of the land around you.
The next day we walked out via the Pike of Stickle, concentrating on accurate and efficient route finding and planning of legs, with regular stops to challenge ourselves on contour interpretation and relocation.
The weekend finished with a 'debrief' in the hard-to-walk-past Old Dungeon Ghyll!
Info on our Advanced Nav Courses can be found here.